You arrived in London from Switzerland with your family, in 2018. We were delighted to find you a beautiful apartment located in one of the prettiest streets of Belsize Park, 5 minutes from Primrose Hill.
Since then, you have evolved within a company called PrivateFly and you are thriving in London!
We would love to know a little more about you and your exciting journey from Switzerland to London.
What did motivate you to move to London and how was your integration into this new life, starting a new job in a different country and the new routine for your entire family?
I have always wanted to live in London to experience the excitement and open-mindedness of a large metropolitan city known for its diversity and dynamism. Switzerland is great, but doesn't exactly match this description. The idea was also to open up our children's eyes and allow them to learn English. The cultural shock was pretty intense for them I have to say, as we put them straight into a 100% English-speaking school, when, really, their English level was pretty low. They were 11, 11 and 12 at that time. We all had to adapt, but that was the whole purpose, and it was so nice to discover London and the UK over the past few years. I have pictures all over my house with a lot of places we have visited, but luckily, there are a few spots still left.
What are the qualities and benefits that make Privatefly a unique place to work?
It is very dynamic and agile. Decisions are made quickly and intelligently, which is not the case in all companies, I definitely like that.
It is also very international as we operate worldwide, with customers from all regions on the planet. 
And last but not least: people really want to do an outstanding job and are 100% focused on customer service. A company that takes that much pride in its customer feedback (and has the results to show for it) can only be a company that goes the extra mile. 
What is the current job position you hold at Privatefly and what are your responsibilities within the company?
I am their Commercial Director which means that I am responsible for sales, business development as well as client services. Basically, from the first moment we interact with our customers to the last, which is usually when they sign up to our loyalty programs and then, we have the pleasure of serving them again and again. Being in charge of our sales results and profitability is challenging of course, but I am enjoying it a lot.
Do you find any cultural specificities or noticeable differences in the English workplace?
Absolutely. 
The most shocking part for me was that they will not eat lunch and just keep working or eat in front of their computers. Free drinks on Friday night also came as a surprise to me. We definitely do less eating but more drinking here!
I find the English way of working a lot more process driven than in Switzerland and yet, or maybe therefore, less complicated. Guidelines are clear, decisions are taken fast, and the English will throw themselves in the water even if they don't have all the answers beforehand. I like that entrepreneurial spirit. Customer service is also excellent, you can feel that people really care about what customers think and experience and we are not just here doing our 9 to 5 jobs. I like the passion and the hard-working mentality, and the will to make things better, even with bumps along the road.
What is a typical Privatefly client's profile and how has your clientele evolved? 
Our clients include high net worth individuals and families, business people and corporations, and we also work with a variety of agents for example in sport, entertainment, travel or property, who refer their clients to us.
Private jets are becoming more accessible and more tech-focussed in the past few years, so we do now see many younger clients.
Did you observe a boom in the private jet industry since the pandemic due to the shortage of commercial flights?
Yes absolutely. While airline flights have fallen by up to 80% during the pandemic, private jets continued to fly and in fact played a key role in repatriations, cargo and other emergency missions last year, in addition to personal and business travel. At PrivateFly we ended 2020 with business 5% up on 2019, and the industry as a whole in Europe was down by only 10 – 20% year on year. 
In addition to being able to fill the gaps in airline schedules, clients have been attracted to the inherent social distancing provided by private aviation – you avoid the main airport terminal and fly in a private cabin. That is a highly appealing prospect during a pandemic.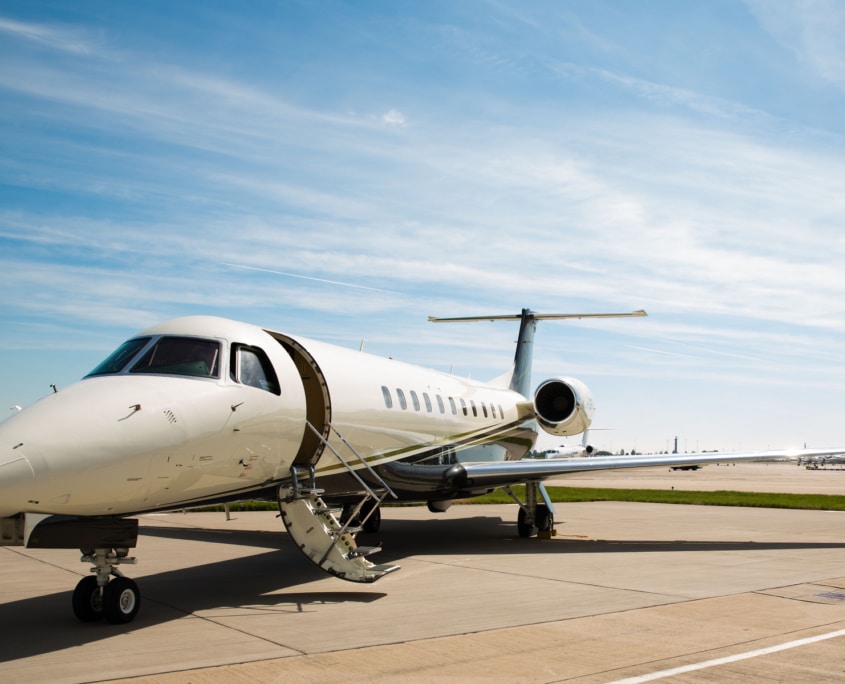 What do you think are the keys to your company's success in 2021 and what is your development strategy?
The most important thing is to be agile. The last twelve months have taught us all that you can't get too bound up in predicting and planning. You must be ready to adapt quickly to the circumstances and changing market demands.
PMA, or Positive Mental Attitude is also really important. Believing that things will work is absolutely fundamental all the time, but especially during Covid. Each question, enquiry, email of phone call can make a difference, so it is important to provide outstanding service at each touchpoint with your customers. And of course, keeping our team engaged and connected with each other and with the business. That can be tough when everyone is working remotely, but it's so key. We have twice daily whole-company briefings which allow us all to share successes and learnings. 
We have made some major changes last year to our services, systems and team members, and are now building on the growth generated in 2020 to reach even higher goals. We recruited 15 new team members in 2020 only and are not finished. We want to push our international expansion further, and have therefore focused a lot on adding more languages to the team, as well as regional knowledge of Asia Pacific, Middle East and German-speaking countries.
To what extent is COVID situation forcing you to change your business model?
At PrivateFly, we saw the opportunity to develop our business into offering jet cards and memberships, rather than just the on-demand private jet charter that we were known for. While there has been a huge influx of demand from new one-off entrants to private jet travel in the past year, we saw that existing private flyers wanted solutions that catered to more frequent travel needs – one that offered them additional benefits and service. 
Our sister company Sentient Jet (also part of the leading global group Directional Aviation) is the jet card market-leader in the US, and they have seen exceptional growth in the past few months. So sharing in their expertise, we have developed a compelling Jet Card membership program for the European market, which is proving very popular since we launched in last August. 
What are the advantages of using a private transport company?
Privacy, personalisation, and service are the key reasons clients come to us. Private aviation is a service designed around the client, so you travel how and when you want to. During the pandemic, being able to control your travel experience and limit your exposure to others is a very attractive prospect.
One of the frequently asked question from our clients, is can they take a pet onto the aircraft?
Funny you should ask that, because that is actually one of our strongest points. On a private jet your pets are treated like part of the family and can travel in the cabin, not in the aircraft hold. So this reduces stress for both pet and owner. A growing number of our clients are pet owners, and we know how much this means to them. The rules and restrictions do vary according to the route, but our team have a huge amount of experience and can guide clients through the relevant requirements. 
What does the day-to-day life of a working woman in London look like at this time of the year?
If you are talking « Covid time of the year », I'd say very much like anyone else's. I am at home, sitting behind a number of screens and spending 75% of my time on zoom or other channels with my teams or the other members of our leadership to drive the business forward. I have to say that my apartment in Belsize Park contributes a lot to my comfort with working remotely, especially since all 5 of us are at home 24/7 now, mainly fighting over bandwidth! Thankfully my 3 children are teenagers, so I don't spend much time with them during the day, they are pretty good with their home-schooling and keep themselves busy. I would never have been able to do this had they been toddlers still, and I definitely sympathise with other parents. And of course, I realise how privileged I am, whilst other working women – and men – have much harder jobs than mine as essential workers. 
And finally, what did French Touch Properties bring to you?
A great apartment in a lovely area without any hassle. What a great decision that was! 
I had started doing things by myself, with great PMA, but quickly realised that London is big and google maps only shows you that much. You don't get a feeling of an area, a street or a house by just looking at a computer screen. At one point, my research had led me to go and visit a place that I thought was great, and I ended up walking under the Westway in a very dirty and noisy area, where I would never have wanted to live. I then handed everything over to French Touch Properties and it was a real walk in the park. The 5 of us came over during l'Ascension in 2018, had a fantastic time following Sophie all over sunny London, and we also spotted Hugh Grant on that occasion, which added a lot to the children's (and the mum's…) excitement. 
Découvrir d'autres profils: