Kings Cross: Un quartier en pleine mutation au Nord-Est de Londres
Pour les français, Kings Cross évoque indéniablement depuis 2007 la nouvelle gare de l'Eurostar.
La gare d'origine, construite durant l'ère victorienne, a été étendue pour pouvoir accueillir des voyageurs toujours plus nombreux.
L'hôtel Renaissance, 5 étoiles de style néogothique et adjacent à la gare, est devenu le symbole architectural du quartier.
Mais Kings Cross ne se résume plus à une gare… c'est maintenant un quartier nouveau car récemment complètement réhabilité.
Le projet de Kings Cross est en effet pharaonique avec le réaménagement complet de 27 hectares de terrain.
Londres est une ville étonnante et en perpétuel mouvement :-) Les bâtiments anciens de l'ère victorienne ont été réaménagés en bureaux et restaurants.
Les constructions sans intérêt et certains hangars derrière la gare ont été rasés pour laisser la place à de magnifiques immeubles ultra modernes et design.
Ce nouveau quartier d'affaires accueillera aussi le siège anglais de Google et ses 7000 employés dans un immeuble long de 300 mètres appelé le « groundscraper « .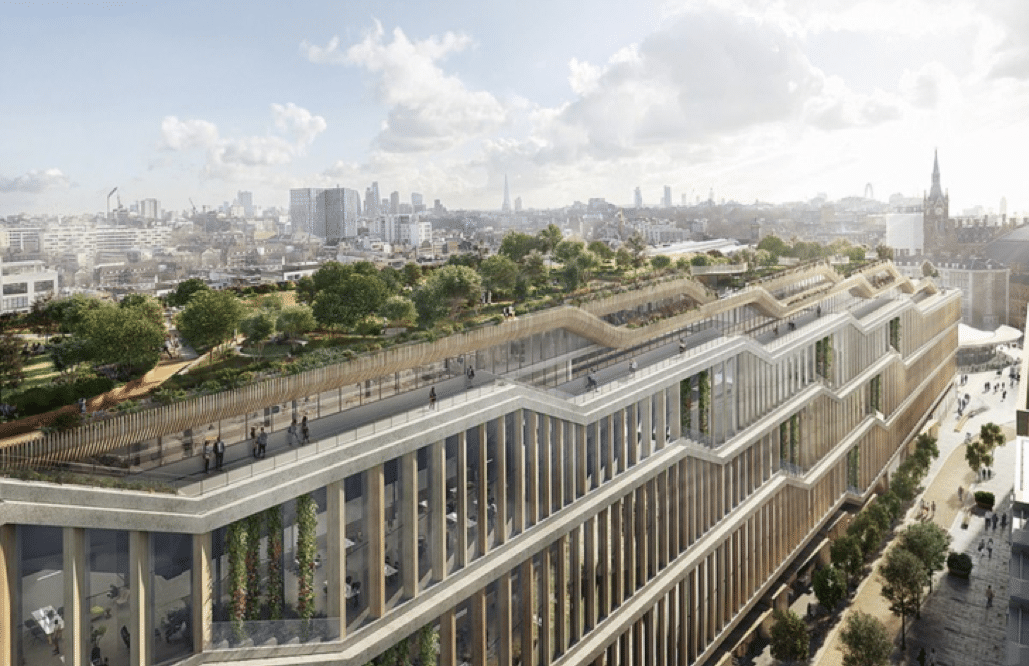 Louis Vuitton UK a lui choisi l'immeuble ultra moderne  « One St Pancras" pour y établir son siège.
La célèbre école Central St Martin's College of Art and Design s'est installée dans le Granary Building donnant un visage jeune et trendy au quartier.
Kings Cross est donc devenu un quartier très agréable à proximité du quartier animé de Angel (Islington) et du quartier touristique hippy de Camden.
Les adeptes de verdure ne sont pas en reste avec la création de 10 espaces verts en plus des 13 kilomètres de berges du Regents Canal et de la réserve de Camlet Street…. de quoi bien s'oxygéner !
De nombreux investisseurs s'intéressent à ce quartier … French Touch le recommande !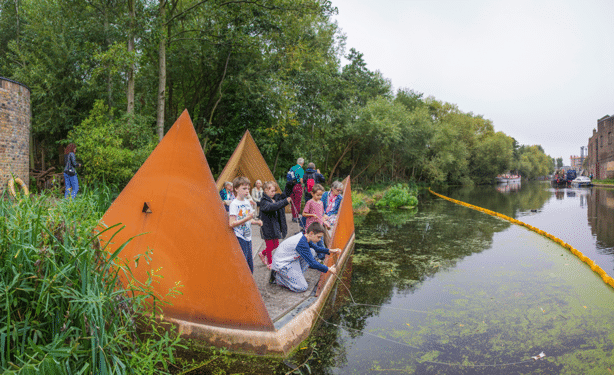 Photos credit https://www.kingscross.co.uk/camley-street-natural-park
Les meilleures adresses et activités:
* Caravan: Le restaurant bobo où bruncher entre 10h et 16h avec ses collègues… le lieu, un ancien grenier à grain, est incroyable :-)
1 Granary Square, Kings Cross, London N1C 4AA
https://www.caravanrestaurants.co.uk/kings-cross.html
* Découvrir la cuisine allemande dans le plus ancien gymnase du Royaume Uni au German Gymnasium 
King's Blvd, Kings Cross, London N1C 4BU
https://www.germangymnasium.com
* Bar Pepito: Bar Andalou pour prendre un verre et quelques tapas dans un endroit cosy et dépaysant.
3 Pentonville Rd, Kings Cross, London N1 9DF
http://camino.uk.com/location/bar-pepito/
* Booking Office: Dans le même building que l'Hôtel Renaissance, pour signer un contrat dans un endroit chic… nous aimons particulièrement le cachet du building.
St. Pancras Renaissance Hotel, Euston Rd, London NW1 2AR
https://www.stpancraslondon.com/en/restaurants-and-bars/booking-office
* Découvrir en famille la réserve naturelle de Camley Street (fermée jusqu'au printemps 2019… encore quelques mois à patienter)
Un vraie oasis de verdure le long du canal sur presque 1 hectare.
12 Camley St, Kings Cross, London N1C 4PW
https://www.wildlondon.org.uk/reserves/camley-street-natural-park
* Profitez des berges du Regents Canal pour découvrir Londres au fil de l'eau: 13 km entre Paddington et Limehouse… un secret bien gardé !
* Imprégnez-vous de l'ambiance victorienne en visitant la Maison de Charles Dickens…passionnant !
48 Doughty St, London WC1N 2LX
https://dickensmuseum.com
* Cultivez-vous en allant visiter la British Library: A savoir: de nombreux workshop gratuits sont proposés aussi pour les familles.
https://www.bl.uk/whats-on
* Faites une surprise à vos enfants fans d'Harry Potter en les emmenant sur la « platform » 9¾ de Kings Cross station … départ imminent du Hogwarts Express !
Les bonnes adresses des autres quartiers: