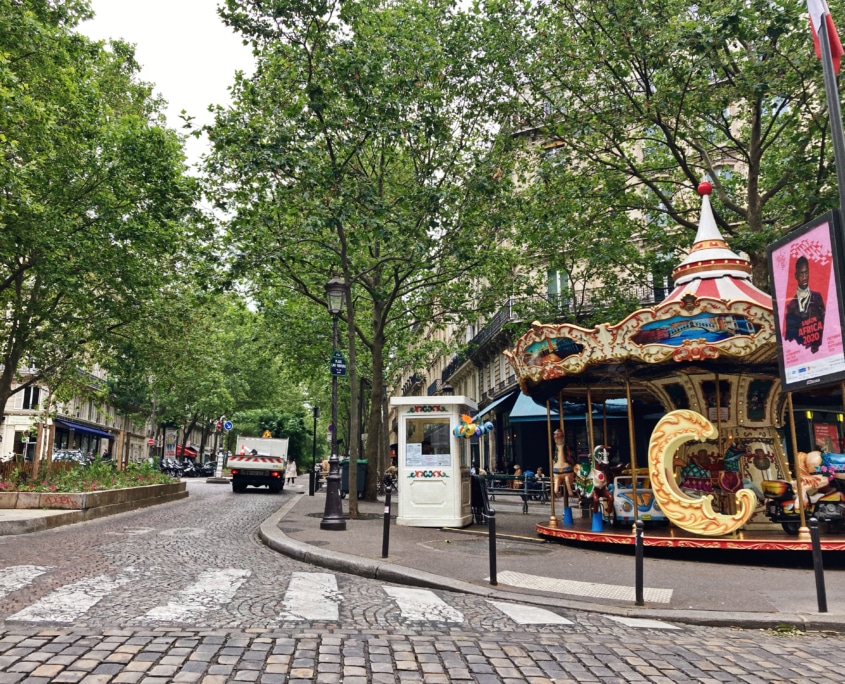 Located in the middle of Paris, the 9th arrondissement of Paris is a district that was widely restored in the 2000s. This boom was thanks to its central location, a plush yet affordable housing stock, major transport links due to the train and a young and growing population. Today, this district is very popular with people who love old stone, the ultra-Parisian atmosphere and, at the same time, the "village" spirit, which is still safe from tourists, in the shopping streets.
SAINT GEORGES
 Location :
If you're coming from Gare Saint-Lazare, take Rue d'Amsterdam to the unmissable Moulin Rouge. Then turn right onto Boulevard de Clichy then turn right down Rue des Martyrs. You'll arrive at Rue de Chateaudun and you'll have travelled through the whole of the sub-district named Saint-Georges after its Park.
Atmosphere :
Like the whole of the 9th arrondissement, it's hard to give one atmosphere to summarise this area of Paris! Between the station forecourt where many passengers flock, the nearby office district, Pigalle's sexy nightlife, the little boutiques on Rue des Martyrs and the theatres on Rue Blanche, there's something for everyone!
Practical life :
Yes indeed, Rue des Martyrs is absolutely great for food shops! Forget about the AméliePoulain stereotypes and the wandering tourists to take full advantage of this little corner of paradise that is so Parisian, charming and romantic. After, on the corner of a street there's always the little grocer to help out, the neighbourhood bakery or the halal butcher.
School life :
The district's private schools include Notre Dame de Lorette and L'école de la Trinité, which are two of the most important in the area. In terms of secondary schools, LycéeRocroy St Vincent de Paul shares the district's pupils with CoursClapeyron and CoursSocrate. There's not a big choice, but at that age, it's easy to travel to other more desirable neighbourhoods for secondary studies.
Transport :
As explained in the introduction, the 9th arrondissement is among the best served in Paris, with no less than 19 metro stations, especially Gare Saint-Lazare, which is really expensive in a game of Monopoly! Also, pedalling to the foot of Butte Montmartre is not to be underestimated if you prefer cycling.
Property :
Charm, climbing streets, one-way streets, pavements, cobblestones, gardens hidden behind large façades, etc. The prices have gone through the roof and continue to climb; this is the price of real life in Paris!
Average price/m2 : €9,230 (4th quarter 2016) + 5.6% (2016 annual change)

CHAUSSEE D'ANTIN
Location :
Starting again from the forecourt of Gare Saint-Lazare, this time go down to the south, following Rue du Havre, which ends on Rue Vignon. Take Boulevard des Capucines and Boulevard des Italiens. Then take a quick left! Walk along the beginning of Boulevard Haussmann, then go up Rue Taitbout until you reach the long Rue de Chateaudun. You've found Chausséed'Antin!
Atmosphere :
Offices and more offices! Boutiques and more boutiques! You've been warned, between the major roads such as Capucines, Caumartin or Auber and the department stores between Opéra and Lafayette that now compete with all international fashion brands, the atmosphere is full of busy employees and lost tourists more than families with children!
Practical life :
Practical life: everything is open until late at night, there are plenty of choices in terms of food and clothes thanks to Lafayette Gourmet and Printemps de la Mode, and all the fast food chains are available here. After, in terms of local shops, don't expect a lot of charm.
School life :
Lycée Condorcet is a stone's throw from CoursHattemer, both of them located slightly above Boulevard Haussmann. For younger children, the town hall offers crèches and day-care centres, but the best thing to be able to do is take advantage of the nurseries of the companies installed in this "ultra-office" area of Paris!
Transport :
In addition to the many buses that serve this perimeter, there are countless stations where several metro lines meet! So, our advice: it's better to work and shop in the Chausséed'Antin district than live there!
Property :
For a price per square metre that is more or less the same, you should favour the small streets on the St Georges side over the never-ending excitement of Chausséed'Antin! It's true that the buildings are prestigious, but nice peaceful courtyards in quiet streets are at a premium.
Average price/m2 : €9,210 (4th quarter 2016) + 2.8% (2016 annual change)
FAUBOURG MONTMARTRE
 Location :
Another area, another atmosphere: Faubourg Montmartre starts halfway up Rue de Chateaudun, extends Rue Lafayette to better go down Rue du FaubourgPoissonnière until Grand Rex, which marks the beginning of the Grands Boulevards.
Atmosphere :
With ThéâtreTrévise, Théâtre Antoine, Les FoliesBergères and MuséeGrévin it's a highly popular tourist area that is perhaps more culture-oriented, with the lure of the OpéraGarnier, the Olympia or HôtelDrouot just a few streets away! It's a lively district, both during the day and at night, with many bars and restaurants.
Practical life :
This isn't the best area for families with small children! It has small streets, narrow pavements, noisy nightlife with terraces and small local shops that are more for people passing through age than for quality produce, but it's an ideal place for young couples, students and single people.
School life :
Of particular note is the Edgar Poe Private Lycée on Boulevard Poissonnière. Renowned fashion schools are also located in this area near Sentier: LycéeBerçot, Mod'Spé Paris and specialist schools such as the Jacques Lecoq International School of Theatre or National Superior Conservatory of the Dramatic Arts.
Transport :
The problem in the 9th arrondissement are its narrow pavements that condemn pushchairs to the main roads where pollution and traffic are heaviest. Parking spaces have also been reduced to next to nothing with the establishment of Autolib', which now seems to be everywhere! Don't say we didn't warn you…
Property :
Just behind the attractive boulevards, there are still "little" streets with beautiful living spaces. Prices go up very quickly for apartments of less than 60m2 and some high-rise properties are now going for €12,000/m2!
Average price/m2 : €9,120 (4th quarter 2016) + 4.2% (2016 annual change)
ROCHECHOUART
 Location :
By following Boulevard de Clichy, let yourself go down Boulevard de Rochechouart, and you're guaranteed change of scenery when you reach the Barbés metro station! Then, just go down the very long Rue du FaubourgPoissonnière to Boulevard Poissonnière and you'll have completed the tour of this district that ends at Angle de Maubeuge and Faubourg Montmartre.
Atmosphere :
Yet again, what a heterogeneous district between the village spirit of Rue des Martyrs and Barbès at the foot of the Sacré-Coeur! We'll go quickly to the corner of Tati and TroisMarronniers or even to St Pierre market, which is a must for its choice of fabrics, to devote our information to the stations of Poissonnière, Cadet and Notre Dame-de-Lorette!
Practical life :
Families are concentrated around Rue des Martyrs, where commercial life has crossed borders since the success of AméliePoulain! It's really a very pleasant aspect of the district, despite its steep streets for pulling shopping trolleys and pushing pushchairs!
School life :
Beyond the difficulty in finding very good schools, it should be noted, with the exception of Montholon Square and Antwerp Square, the chronic lack of green spaces in this part of Paris. On the other hand, the Georges Drigny and Valeyre swimming pools will perhaps give your kids chance to have fun after school!
Transport :
Gare du Nord and Gare de l'Est are close enough to facilitate major travel lines with Saint Lazare. On the other hand, metro lines become scarcer in this area and the vehicular traffic, with the wide lanes reserved for buses, hardly improves the flow of traffic.
Property :
This district on the edge of the 10th arrondissement has enjoyed a boom in interest in recent years. You'll be able to find some beautiful living spaces, but then everything is a question of atmosphere, security and cleanliness because there are still lots of insalubrious buildings.
Average price/m2 : €9,200 (4th quarter 2016) + 6.2% (2016 annual change)