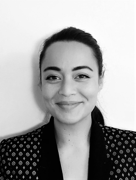 Property Consultant
Community & Communication Manager
How long have you lived in London? Six years already and this city continues to amaze me each day!
Where do you live? After living further North of London in Hampstead Heath, and East in 'The City' close to Liverpool Street, I finally discovered my dream neighbourhood in Chiswick.
What do you like best about your area? Popular for its beautiful shaded main road and surrounded by lovely parks, the area is very green, Chiswick is a very dynamic and lively place. It is a place where I find my retail impulses turn into enjoyable strolls. Most of gastropubs and restaurants have small courtyards where I can retreat to indulge in English Breakfasts or traditional Sunday Roasts. It is a place where you can see happiness on everybody's faces!
What do you like the most about your job? Finding the best properties in the right neighbourhoods that match the client's requirements. We take great care in listening to our clients continually, adapting to their ever-changing needs and committing to delivering the right homes. This gives me great motivation, and thanks to the generosity and expertise of the French Touch team, we find flat hunting to be pleasurable.
What do you bring to the team? My positive energy, can-do attitude and focused rigor acquired through my Legal experiences. I have a passion for digital marketing that I am able to bring into the team; to give them a better outreach and to enable people to find us that need our help. All contributions are mutual, and because French Touch Properties was built around this principle I feel I can blend in very well. Being listened and being able to take part of such a success is amazing!
London in a few words? Effervescence, multicultural wealth, respect for others and openness.
What do you like best about London ? There is a genuine feeling of freedom where people do not judge each other. The freedom to take your chance and believing in yourself to make things happen is extremely stimulating. Everything goes so fast in realising your ideas to make your projects possible is a powerful thing that happens when other English people help by association. There are a lot of community interests that local people take part in to make London a better place. On a practical level there are many CCTV's, ever-present policing and citizen spirit that makes London one of the safest cities to live in. Although the London Underground is expensive, it is very clean, the appreciable availability of staff and 24-hour weekend runs makes it worthwhile and a pleasure to use. Finally, how not to talk about Off Licenses! These are grocery stores open 24/7, where you can find almost everything, at any time – day or night. They changed my life!
Something that you have discovered in London and that you are addicted to? Fish and chips and beer! Which brings happines to my Gym Club as they see me more often!
Something you do not get used to you? The taps with cold water on one side and the hot water from the other!
What do you miss most about France? On my arrival I would have said good cheese and wine, but now I know where to get them!
Your favourite place in London? Tate Modern for its nice free exhibitions and its beautiful view of the River Thames. Kew Gardens for a change of scenery, the Hill Garden and Pergola, a place of haven, for its secret and very hard to find garden in Hampstead Health. For evenings, there is the Paradise Kensal Green on Wednesdays for its open stage and the discovery of new talents, Ronnie Scott's Jazz Club for Jazz grooves in the evening. Babylon at the Roof Gardens in High street Kensington for its stunning rooftop gardens and summer barbecues. The Electric Cinema in Notting Hill is an unique cinema where you can watch films  lying in bed or sitting comfortably in extra large chairs. There is even a bar in the viewing room to order whatever you want. This list is not exhaustive!
A perfect day in London? Equipped with a good pair of shoes, start with an English breakfast in Soho, followed by Oxford Street to watch the swarm of the city. Surrounded by large commercial signs, black cabs, red telephone boxes and the famous English bus, hello London! Then onto Shoreditch and Brick Lane to browse antiquities in vintage boutiques, marvel at the street art and its typical architecture. The Borough Market would be the next stop, famous for its food markets (open every day except Sundays) followed by the iconic St Pauls Cathedral nearby the Thames. A brisk stroll along the river would lead you to Tate Modern, The London Eye and Big Ben in Westminster. If there is energy left, the Buckingham Palace and St James Park are nearby where you can play with the inner city animals – beautiful birds and squirrels! Around now it's evening where people spill out to the streets after work and things get lively. Not far at the Embankment you visit London's oldest wine bar, a beautiful place called Gordon's Wine Bar which is run by a lovely French man! After a full day, because London offers the unpredictable, why don't you pop by Waxy O'Connors – the biggest Irish Pub in the city – to meet people and let yourself be guided for the rest of the night!
Who would you find a property for?  For anyone looking to its Home Sweet Home, either if you already like London or are seeking to love it!
What is the best piece of advice you could give to someone moving to London ? Keep calm and come to London! Everything will run smoothly, just be open to discover new things, meet people and enjoy!