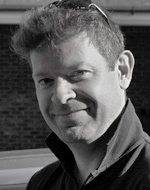 Director
christophe@frenchtouchproperties.com
How long have you lived in London? I have lived in London since July 1999. Financial director for French Touch Properties since 2006, I also happen to be Ségolène's husband.
Where in London do you live? Chiswick
What do you like best about your area? I have lived in many areas, from Bayswater to Chiswick. All of the areas have been enjoyable and had something special to offer. Our longest period of stay was in a house in Barnes, a charming village with real country charm just south of the river Thames, across from Chiswick. The place has multiple areas for riding bikes as well as a large park where you can see deer at play. A place where you can fully appreciate a truly unique British village within minutes of central London. We now live in Chiswick that has become families trendy choice of location, abundant with boutique type shops and a large selection of restaurants.
What do you like about your work? Other than keeping my eye on the financial status of the organisation, my role involves helping the general development plan for the company in a « back office » styled manor. So everything from guiding the marketing to guiding French Touch's strategic development keeps things interesting!
What do you bring to the team? My senior management experience and my financial skills.
London in a few words? Alive
Something that you have discovered that has become a bit of a habit? Sunday Roast
What have you yet to get use to? The weather
What do you miss the most about France? What I miss most about France is the food. Don't get me wrong, you do get an abundance of good food in the good restaurants, even the good butchers. But In France it is just generally good food everywhere.
Your preferred place in London? Richmond Park and Camden town
Your perfect day in London? To start the day off with a bit of Shopping in Camden town, lunch in a local Chinese restaurant, a stroll in Richmond park and to finish off the day with a chilled beer in front of a 6 nations rugby game.
A good address in London? I would recommend "the orangery" in Hype park, the cost for lunch is accessible and the environment is wonderful.
For whom would you like to find a property? Nathalie Portman… wouldn't even mind sharing with her!!
What is the best advice you could give to someone moving to London? Life in London is far from cheap; make sure your employer has taken this into consideration in your relocation package!! Also many pots holes to avoid, take advice whenever you can.