Clapham or Nappy Valley 
Clapham is nicknamed the "Nappy Valley" because of its high number of families. This is indeed the quintessential family neighbourhood with an impressive array of facilities for children. It reigns an atmosphere of chic village with parks galore.
The Chelsea bourgeoisie often crosses the Thames and move to Clapham when the family begins to grow. With Clapham Junction station, the busiest station in the UK, you can go to Canary Wharf (the business district) in 20 minutes and the City in 30 minutes.
The Northcote Road shopping street, with its restaurants and its various shops, is the place to go on weekends. Families would do anything to live on the streets around Belleville School and Honeywell (the famous catchments areas!), the two most famous state schools of the borough that are therefore making real estate prices rise unreasonably in some charming surrounding streets.
With price pressure, the Balham neighbourhood next to Clapham is becoming the new fashionable place with more affordable properties.
Crossing the Thames to come and live in Clapham is a guarantee of quality of life and more space for the family!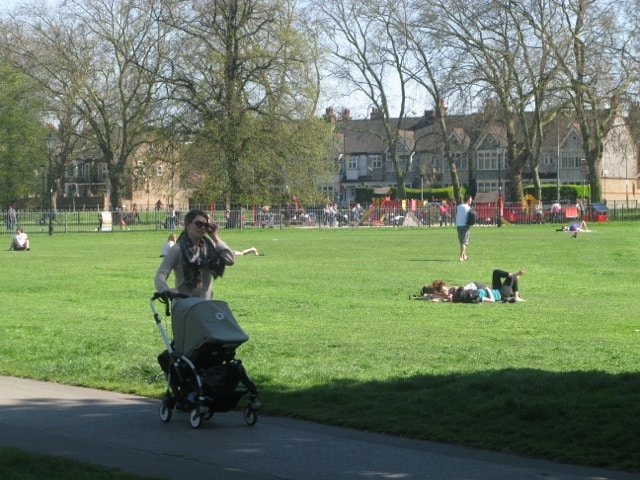 Living in Clapham – good addresses, tips, and activities not to be missed :
Culture: the name of this area has given rise to an expression "The Man on the Clapham Omnibus" which is used in the legal field to designate an educated and intelligent person, but not an expert.
Become a family of Nappy Valley, the Valley of … nappies and strollers …
Hunt around the Antiques and Charity Shops in the area
Take your kids to play tennis, soccer or rugby on Clapham Common, Wandsworth Common and Battersea Park
Take a stroll in Battersea Park, teach your children how to cycle and go see the new-borns in the Battersea Zoo or let teens play freely in the Adventure Park
Have a drink in the trendy bars of Northcote Road and dine in one of the many restaurants in the area:
Numero Uno for pasta with lobster, Tsunami for amazingly thin black cod, Trinity for the tasting menu English, Chez Bruce for the Michelin Star … or in one of our traditional Pubs (the Abbeville, the Windmill, the Stonehouse …). Finally, end your evening in the bars and trendy clubs of Clapham High Street.
Do your grocery shopping on the Northcote Road market, 3 times a week, and especially on Saturday for the very family like atmosphere and do not forget to have a coffee at Gail or Paul … their good breads await you.
Change your wardrobe at TK Maxx, the paradise of designer brand off-price retail.
Enjoy movies at Picturehouse 
Go out to the theatre or visit exhibits at the Battersea Arts Centre, Theatre 503 and discover new talents.
Relax with Yoga Battersea, which offers pre and post natal yoga classes –
---
Visit all boroughs here